Checkout the GeekVape F209 N80 Multi Strand Fused Clapton 2-in-1 premade coils. Designed for use with a range of rebuildable atomisers, including RDAs, RDTAs and RTAs. Recommended for advanced users only. GeekVape Multi Strand Fused Clapton Coil 2 in 1, quick and convenient heating coil, provides very nice flavor.
Each set comes with two types of Fused Claptons. The 0.2 Ohm uses three NiChrome core wires and the 0.3 Ohm features four NiChrome core wires. Both kinds feature an N80/NiChrome wire wrapped around them. NiChrome has a lower resistance per length compared to Kanthal for faster heating, ideal for cloud chasing. The Multi Strand Fused Clapton Coils are a must have.
The 2 in 1 F209 Multi Strand Fused Clapton Coils by GeekVape are the perfect choice for any rebuildable enthusiast. With a range of coils included in this handy pack, you can customise your coil builds to perfect the best flavour and cloud production from your rebuildable tank.
These Fused Clapton Pre-built coils are perfect for those of you who want a quick and easy coil for your RDA, RDTA and RBA vape tanks. With two Ni-Chome coils available as, N80 26 and 28 Gauge you'll have a resistance of 0.2 and 0.3 Ohm making them suitable with high VG e-liquids.
Looking for best vape devices? Click here.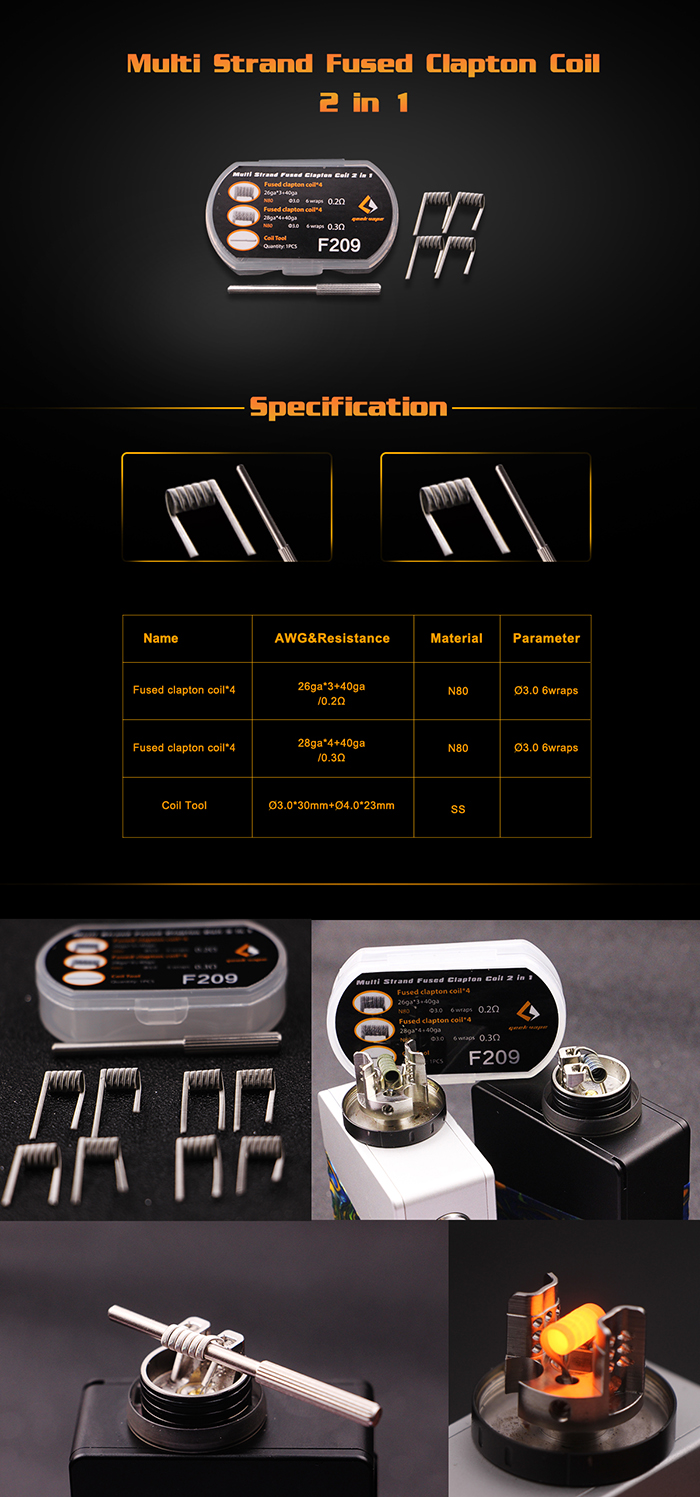 F209 Multi Strand Fused Clapton Coil Features:
Pre Built Coils
6 Wrap Coils
0.2 Ohm – (26G x 3 & 40G)
0.3 Ohm – (28G x 4 & 40G)
Ni-Chrome N80 Coils
Contains:
4 x 0.2 Ohm N80 Multi Strand Fused Clapton Coils (26G x 3 & 40G)
4 x 0.3 Ohm N80 Multi Strand Fused Clapton Coils (28G x 4 & 40G)
1 x Coil Building Tool